Features
Where the artisan's dream of creating global-standard slacks
that every fashionista will love has come true.
Bringing together all of the best of Eminento's nearly seven decades as a specialist in great men's slacks: this is Echizenya.
The Matsuura factory both preserves the best of the fabrication tradition and evolves the rest to make it even better.
As a result, it turns out quality products equal to those from the meister's very hands.
Despite being produced in a factory setting, every pair goes through over 150 precision fabrication steps
with intense attention to detail to produce peerless apparel for people who care.
Building upon tradition to develop the technology and artistic skills needed for quality's evolution, this is future-ready apparel today.
Echizenya: Supremely wearable and cutting-edge stylish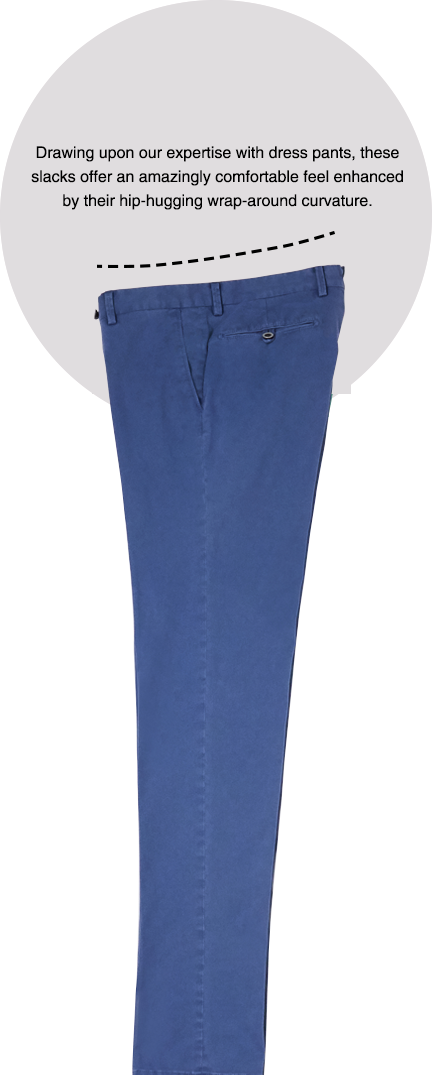 The waistline curve fits smoothly to provide a comfortable, stylish wearing experience.
Button holes are finished from the back to impart a heightened sense of top-flight excellence.
Adding a touch of assurity, there is a pin loop in the front to hold the belt and buckle firmly in place with zero slippage.

All are garment-dyed to give them a faded look—an "I've always dressed this well" look.
Utmost attention is also paid to linings and lining patterns, and the stitching along the waistline adds another fashion statement.
Of course there are pockets, but they are double-welt for a completely natural curve that stays good-fitting all the time and enhances the graceful lines.
The back pockets are positioned a little higher than most slacks.
Even when you sit down, the things in your pockets are no comfort-impediment.
At the same time, these designer pockets serve to create the appearance of a higher hip line.

All buttons have sturdy shanks for buttoning ease. And because they fit snugly, there is no danger of their accidentally becoming unbuttoned, meaning you always have an additional margin of peace of mind.